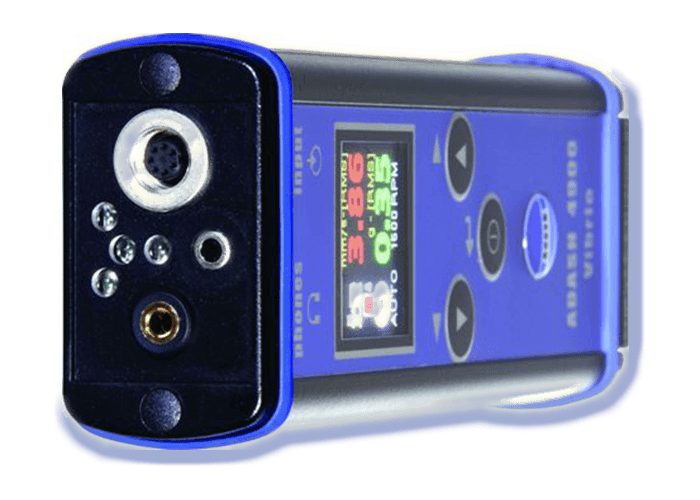 A4900 Vibrio III – Smart Vibration meter unbeatable in performance!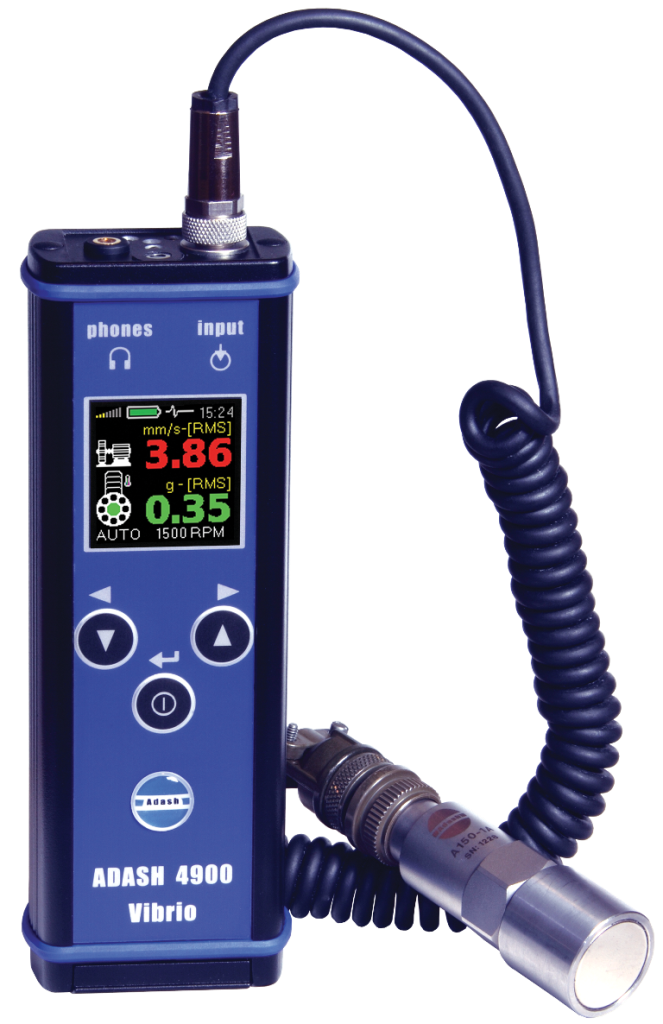 A4900 Vibrio III - Smart Vibration meter unbeatable in performance!
The A4900 Vibrio III is a multi-function portable meter that bridges the gap between the basic Vibration meter and advanced FFT data collector/analyzer.
It is a complete machine condition expert system that gives results without the use of a computer or laptop. It is designed for the technician, engineer and consultant who needs to analyze a rotating machine on-site without investing and carrying expensive instruments to site. Using Vibrio III can not be easier!
This single meter undertakes:
overall vibration measurement
three band spectrum
Time Wave Form
FFT spectrum
temperature
speed measurement
strobe scope
stethoscope
In addition it incorporates a handy inspection torch.
A4900 Vibrio III is a revolutionary instrument with a completely new design! The operation of the instrument is so easy that anybody can learn to use it very quickly. The instrument uses the colors green, orange and red to display the status. Determination of individual machine or bearings defect types is done directly during operation, without a need to use a computer or software.
Instruments in this cost-effective category have been able to measure only total vibration values so far. But the A4900 Vibrio III is different. For each point on the machine this device produces many different measurements:
overall RMS and PEAK velocity (10 – 1.000 Hz)
overall RMS and PEAK acceleration (500 – 16.000 Hz)
overall RMS and PEAK displacement (1 – 200 Hz)
velocity spectrum (0 – 200 Hz)
acceleration time signal (bearing fault detection in 500 – 16.000 Hz band)
acceleration enveloping measurement
automatic machine speed detection
non-contact temperature measurement
displacement measurement
A4900 – Vibrio III is sold as complete set with a quality accelerometer, coiled cable, magnetic base, transit case and headphones. You can connect headphones to this instrument and listen to vibration signals. Do not consider this method out of date! If you measure transmissions or slow-running bearings, you will quickly understand its usefulness.